Sleep Apnea Risk Profile
This test is a valuable and widely accepted tool for helping to identify serious sleep apnea sufferers.
This Sleep Apnea Risk Test uses three scientifically validated and professionally recognised apnea tests. It delivers an accurate risk assessment for sleep apnea, an assessment of your eligibility for a Medicare rebate, and tailored recommendations on what you can do next.
This first apnea test scores you on the Epworth Sleepiness Scale (ESS). This is a subjective 8 question evaluation of your normal level of sleepiness in a variety of situations. There are no right or wrong answers and no one will judge you.
Select the number that best describes your likelihood of feeling sleepy in the corresponding situations.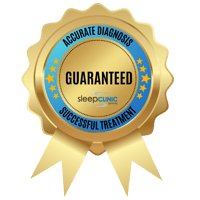 What's it like getting a sleep study with Sleep Clinic Services?
Care you can trust. For over a decade, Australia's best provider.
Get in touch
Are you ready to reclaim peaceful restorative sleep?
Wherever you are, we can help.
As Australia's leading provider of telehealth screening, diagnosis and solutions for 'sleep disordered breathing' sufferers, we care for people all around Australia.
Questions?
Call during business hours or fill in the form and we'll call you back at the time you choose. No cost, no obligation.